Heavy Rotation
Heavy Rotation is an advanced music scheduling system, which provides you with a comprehensive set of tools to automatically picking out your music, based on a set of criteria. With Heavy Rotation you will have complete control of the music flow from song to song and from hour to hour. Many radiostations invested a lot of time and money to optimize their scheduling program, so you can import playlists from standard music scheduling software (MusicMaster, PowerGold, Selector,...)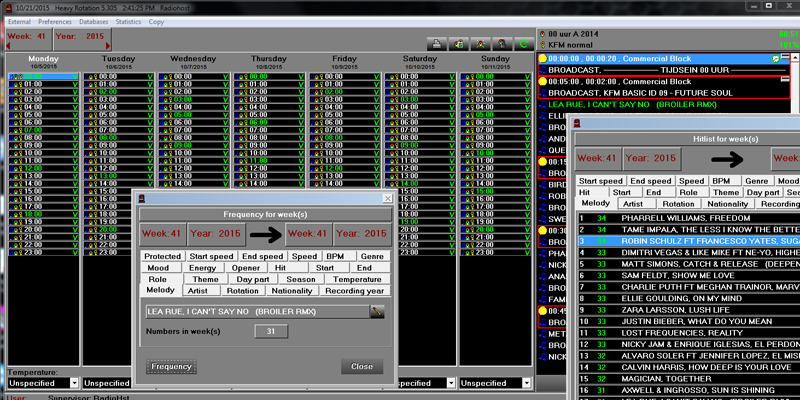 Key features
schedule breakers, songs, station IDs or other soundfiles
import playlists from other music schedulesoftware
setup rotations, schemes and criteria
use of dynamic files (for example: audiofile from newsagency)
schedule voicetracks
schedule commercial blocks
schedule timer and events
transition tempo for files
season scheduling
create hitlist
search when a song or artist is scheduled
direct link to Broadcast for editing playlist
choose another item from the same rotation instantly
export full playlist from Radiohostsystem to another
export part of playlist
export musicfiles (with database information)
More information about some key features
Schemes and rotations
Music files are categorized in a number of rotations. Unless halted by a criteria, the rotation will play a song and place it in the back of the cue. Just like a box of CD's where you play the first CD and place it in the back of the box. The rotations are used to define a scheme, where a number of rotations are placed after one another to define an hour. The schemes can be reused for as many hours as you like making this modular approach to music scheduling simple and easy.
Criterias
Criterias are used for setting the rules for the music scheduling. With a bunch of parameters you make a set of criterias to match the stations format.
Reports
By request you can analyze the scheduled hours and see a sorted hit list of music, artist or rotations. Each item in the lists can bee selected to show in the weekly overview. The hours that contain the item is then highlighted.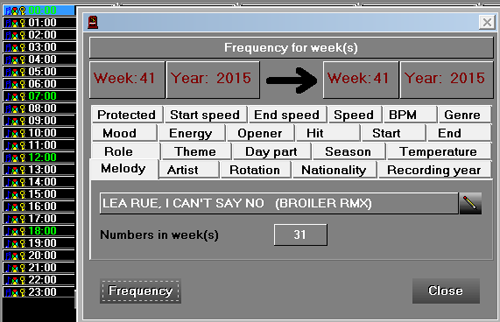 Hardware requirements
PC: Any standard officecomputer will be sufficient
Operating system: Windows 10, Windows 8.1, Windows 7, Windows XP, Windows 2003 Server
Sound card: Any standard sound card
Hard disc: 7 Mb for installation
Net card: 100 Mbit or faster
Ram: 256 Mb